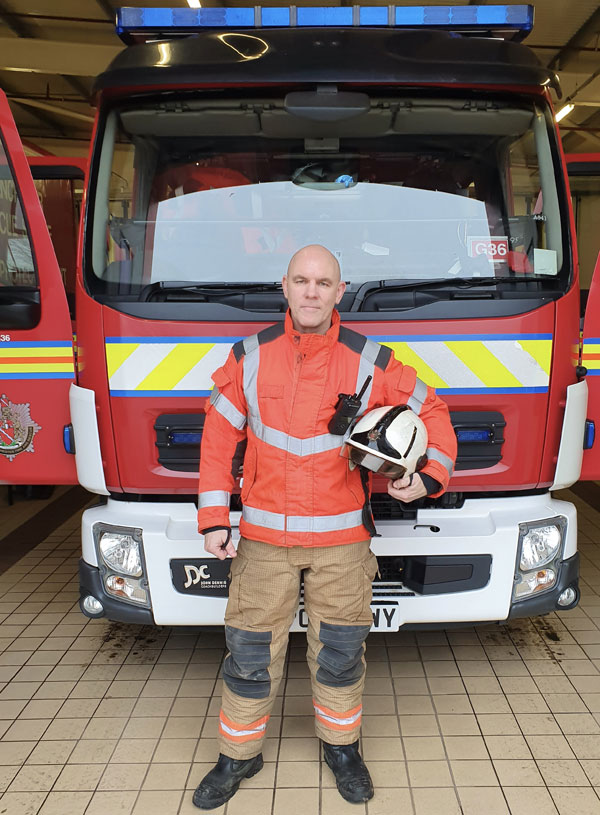 Steve Wilcock North West Fire Training
---
About Steve Wilcock
---
Steve Wilcock is the Owner and Director of North West Fire Training, Steve is a Royal Navy veteran having served for 5 years as a Sea Harrier Air Engineering Mechanic in the Fleet Air Arm. Steve went on many deployments around the globe with 800 Naval Air Squadron attached to HMS Invincible. The Royal Navy allowed Steve to develop a skillset which prepared him for his next challenge when he became a Firefighter in 1994 at one of the busiest Fire Stations in Greater Manchester at Broughton, covering Northern Salford in the 90s – with one of the highest 'primary fire' statistics in the country, one shift stands out in Steve's memory with 8 operational breathing apparatus wears in one tour (a tour is a Fire Service term describing a shift consisting of 2 days and 2 nights).

Steve reflects on some of the dynamics that were different then, there were more smokers, chip pans were still prevalent in many homes, furniture still had polyurethane foam within it, and critically smoke alarms were few and far between. Anti-social behaviour provided a continual stream of challenging work with youths looking for excitement setting fires and battling with fire crews. Eventually the frequency of serious fires started to decline with many fire service campaigns and most significantly the government funded smoke alarm campaign that commenced in 2004. More and more homes gained access to the internet and with a continual source of entertainment such as social media, movies on demand, online game stations etc. Those adolescent years would never be the same and antisocial fires started to decline.

Steve embarked on many years of study eventually passing the highest level of exam with the Institute of Fire Engineers. He progressed through to Watch Manager at Agecroft Fire Station, Salford. Agecroft housed the Brigade's Incident Command Unit. The ICU would attend all 6 pump+ incidents within the Greater Manchester jurisdiction.
Steve was exposed to innumerable incidents including the Stockport Rubber Company Fatal fire, The Rex Mill fire, The fatal Bolton Moathouse fire in 2001, Ashton Market the list goes on. By 2003 he was promoted to Station Officer in the Fire Safety Legal and Technical Section at FSHQ and became a fully qualified Fire Safety Enforcement Officer. He was part of the CACFO national team that was preparing Brigades across the country for the impending Regulatory Reform Fire Safety Order 2005. He was asked to prepare a training package that would rolled out nationally for all Brigades, entitled "Training for a New Regime". This was designed to help Fire Safety Enforcement Officers to move to a Risk Based approach. Steve was asked to provide training for the new-in-post Fire Safety Officers and the first seeds were sewn for a future in training.

In 2005 Steve moved out as a rider Station Officer at the 2 pump and Aerial appliance as Officer in Charge of Green Watch Bury in the North of Manchester, Steve stayed in the post and still serves there to this day as an Operational Officer. During his time at Bury, Steve received a Chief Fire Officers commendation for actions taken at the Alpha Hospital fire in Bury. With permission from the service Steve set up a commercial fire training company in 2008.